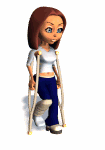 Hello everyone!!! I am hoping you all had a safe and wonderful beginning to the new year. As you know I started the new year with knee surgery and everything went very well. It was a little bit more of a repair then they thought but I am recovering fast and soon hopefully will be released and on our way to new adventures this year. I spent the first 2 weeks at my daughter's house where they all kept an eagle eye on me to make sure I did absolutely nothing... except for the leg & knee exercises that rehab is giving me to do... Ralph stayed with Tassie to make sure she was doing good in this freezing weather... It is the first time we have been in such freezing temperatures (single digits) and we are having a hard time with condensation and the walls freezing up... I think we'll be staying home in Florida for the winter from now on...

Anyways I wanted to give you all an update to let you know I am doing great and recovering just as fast as I can... I have a doctors appointment on the 28th and if he releases me then we'll be back on the road by the first of February which is our 41st anniversary... YEAH!!!! I can't wait to get rid of these crutches... It is hard for me to sit here for long periods of time but I am hoping to get back to my regular blogging and visiting my friends♥♥♥
Until Later... Have FUN, Travel Safe & Enjoy Everyday!!!!